Green Roofs and Living Walls
Green roofs and living walls are innovative and environmentally friendly architectural features that bring nature into urban spaces, offer numerous benefits, and contribute to sustainability. Here's an overview of green roofs and living walls: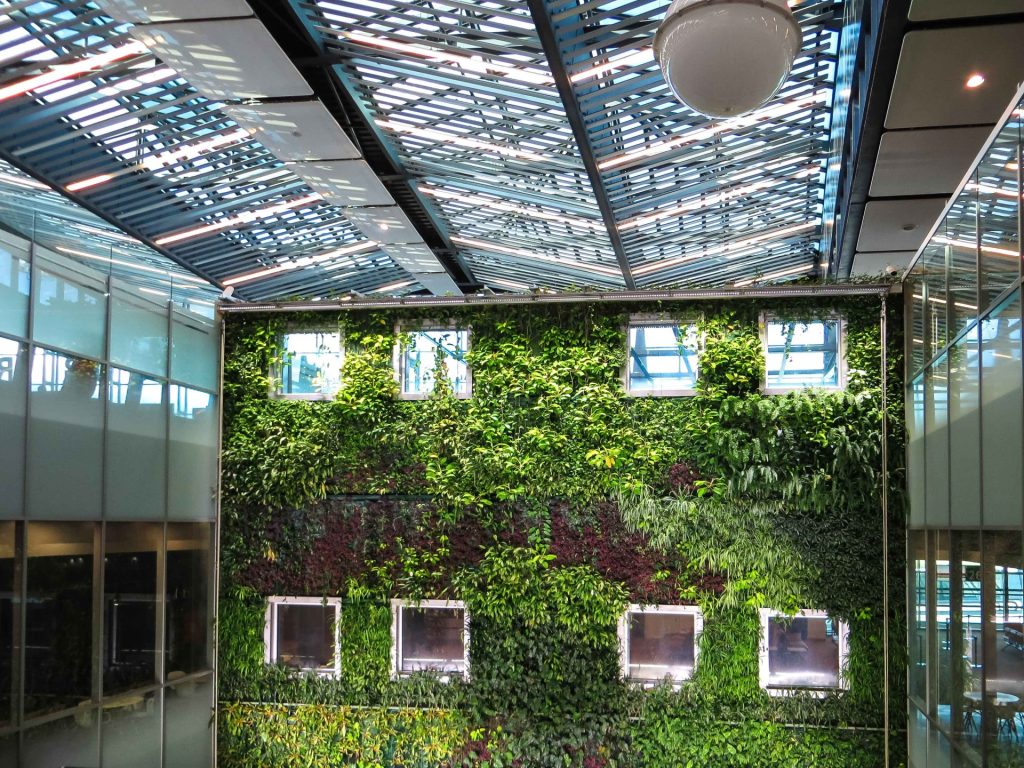 Green Roofs (Vegetated Roofs):
Definition: Green roofs are vegetated surfaces, partially or completely covered with living plants, that are installed on top of buildings. They are also known as vegetated roofs or eco-roofs.
Components: Green roofs consist of multiple layers, including a waterproofing layer, a root barrier, a drainage layer, a growing medium (soil or substrate), and a variety of plants. They can be categorized into extensive and intensive green roofs, depending on the depth of the growing medium and the types of vegetation.
Benefits:

Environmental Benefits: Green roofs provide insulation, reducing the heat island effect and energy consumption. They capture and filter rainwater, reducing stormwater runoff. They also contribute to improved air quality and carbon sequestration.
Economic Benefits: They can extend the lifespan of the roof, reduce energy bills, and potentially increase property value.
Aesthetic Benefits: Green roofs enhance the visual appeal of buildings and provide green spaces in urban areas.

Maintenance: Green roofs require regular maintenance, such as weeding, irrigation, and monitoring for plant health.
Applications: Green roofs are used in various applications, from residential homes to commercial buildings, and they are especially popular in densely populated urban areas.
Living Walls (Green Walls or Vertical Gardens):
Definition: Living walls are vertical structures covered with vegetation. They can be attached to the exterior or interior of a building.
Components: Living walls typically consist of a framework that holds plants, a growing medium, an irrigation system, and plants. The framework can be modular or custom-designed.
Benefits:

Environmental Benefits: Living walls help improve indoor air quality and can reduce energy consumption by providing insulation. They also serve as noise barriers and contribute to urban biodiversity.
Aesthetic Benefits: Living walls are visually appealing and can enhance the ambiance of spaces.
Biophilic Benefits: They connect people with nature, promoting well-being.

Maintenance: Living walls require regular maintenance to ensure the health of the plants, which may involve watering, pruning, and monitoring for pests and disease.
Applications: Living walls are used in both indoor and outdoor settings. Indoor living walls are often seen in office buildings, hotels, and commercial spaces, while outdoor living walls are used on building exteriors and in public spaces.
Both green roofs and living walls contribute to sustainable architecture by mitigating the urban heat island effect, reducing stormwater runoff, and providing habitats for wildlife. They also offer psychological and physical benefits to people by connecting them with nature in urban environments. These green architectural features continue to gain popularity as the world seeks more sustainable and environmentally conscious building practices.