Modern Office Interior Design The Secrets of Colors and Furnishings
Introduction
You are probably wondering what the secrets of successful modern office interior design are. Many people think that it is all about the furniture and the colors that you choose. However, this is only a small part of the puzzle. If you want to create a workplace that is both stylish and comfortable, then you need to think about all the different elements that go into it.
In this article, we will give you some tips on how to design a modern office interior that will be perfect for your needs. We will also discuss the importance of colors and furnishings, and how they can affect your productivity. So, if you are planning to revamp your office in the near future, then make sure to read this article!
Introducing Modern Office Interior Design
Office design has come a long way in the past few years.
No longer are bland, beige cubicles and sterile meeting rooms the order of the day. In fact, if your office still looks like that, it's time for a change. These days, modern office interior design is all the rage. And there are good reasons for that.
First and foremost, good office design sends a message to your clients. It tells them that you're a company that cares about its image and is willing to invest in making its employees comfortable and productive.
Second, good office design can actually improve your employees' productivity. Studies show that people are more creative and active when their working environment is pleasing to the eye. And who wouldn't want to be productive in a comfortable, stylish space?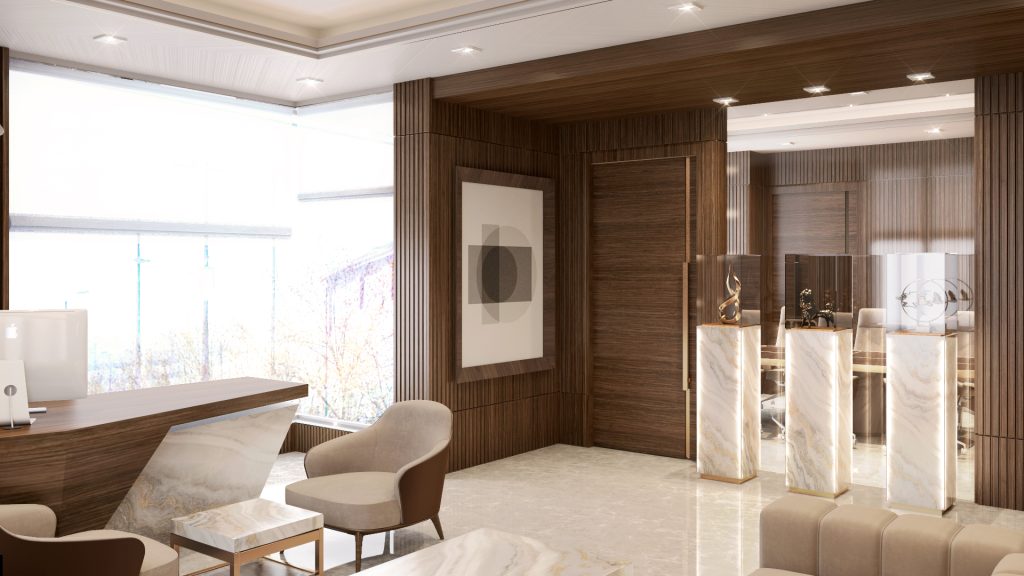 Creating a Positive Esthetic Environment
Your office should be a place where you feel good working in. This means that the interior design is important to consider. You want it to be modern and trendy, but also comfortable.
Some tips for achieving this:
-Choose colors wisely. Some colors are more conducive to creativity, while others are more suited for an active and agile work environment.
-Make sure the furniture is comfortable. You don't want employees to be uncomfortable in their own office.
-Think about the overall esthetic. You want it to be pleasing to the eye and reflect your company's image.
Color Psychology and Its Impact
When it comes to office interior design, color psychology is key. Different colors can have different effects on our moods and emotions, and it's important to choose the right colors to create the right atmosphere in your office.
For example, if you want your office to be a place where employees feel creative and inspired, you might want to use bright, bold colors like yellow or orange. If you want your office to be a place where employees are energetic and active, you might want to use bright colors like red or green.
Of course, these are just general guidelines. You should always choose colors that correspond with your brand and the image you want to project to your clients. And it's also important to consider the size and layout of your office. A small office might not be able to handle too many bright colors, while a large office can afford to be more colorful and eclectic.
The Role of Furnishings in Office Design
The role of furnishings in office design is often underestimated. But the truth is, your furniture has a big impact on the overall look and feel of your space. And if you're trying to create a modern office, you need to be strategic about your furnishings.
For example, modern offices tend to be more minimalistic. So you might want to choose furniture with clean lines and simple designs. And if you want a really modern look, you can even go for concrete or glass furniture.
Another important consideration is comfort. Remember, your office is where you're going to be spending a lot of time. So you want to make sure your furniture is comfortable and ergonomic. This will help you stay productive and avoid injury.
Finally, you also need to think about the style of your office. Do you want it to be sleek and professional? Or warm and welcoming? The right furniture can help you create the perfect atmosphere for your business.
Designing for Different Types of Workspaces
You might be wondering what types of office spaces there are and how you can design for them. In general, there are three types of office spaces: private offices, open offices, and coworking spaces.
Private offices are, as the name suggests, for employees who need a private space to work. These are usually reserved for upper management or executives. When designing private offices, you'll want to focus on creating a space that is both professional and comfortable.
Open offices are just that: open spaces where employees can work together. These are great for promoting collaboration and fostering a sense of community in the workplace. When it comes to open office design, you'll want to create a layout that is both functional and stylish.
Coworking spaces are shared workplaces where people from different companies can come together to work. These are becoming increasingly popular, as they provide a flexible and cost-effective way to have an office space. When it comes to coworking space design, you'll want to create a space that is both inviting and inspiring.
Frequently Asked Questions About Modern Office Interior Design
You might be wondering about a few things when it comes to modern office interior design. Let's go over some frequently asked questions so that you can have a better understanding of what this style is all about.
1. What is the difference between modern and contemporary office interior design?
The main difference is that modern design refers to a specific period in time (the mid-twentieth century), while contemporary design refers to the present day. Contemporary office interior design takes inspiration from many different sources, including modern design, but also incorporating other styles as well.
2. What are some common features of modern office interior design?
Some common features include clean lines, simple shapes, and a focus on function over form. Modern office interior design also often makes use of natural materials, such as wood and stone.
3. How can I make my office more modern?
If you're looking to give your office a more modern feel, there are a few things you can do. First, consider your color scheme. neutrals and earth tones are popular choices for modern offices. You can also incorporate more natural materials into your space, such as wood and stone furnishings or accents. And finally, think about your layout and flow; ensure that your space is functional and optimizes efficiency.
Conclusion
So, what colors are best for your modern office interior design?
It really depends on the image you want to project to your clients and the atmosphere you want your office to have. If you want your employees to be creative, then cool colors like blues and greens are a good choice. If you want your employees to be active and agile, then warm colors like oranges and yellows are a better choice.
Best Architect Istanbul AA ARCHITECTURE The Way of Success Story
The Most Competitive Prices Why You Should Import Turkish Furniture